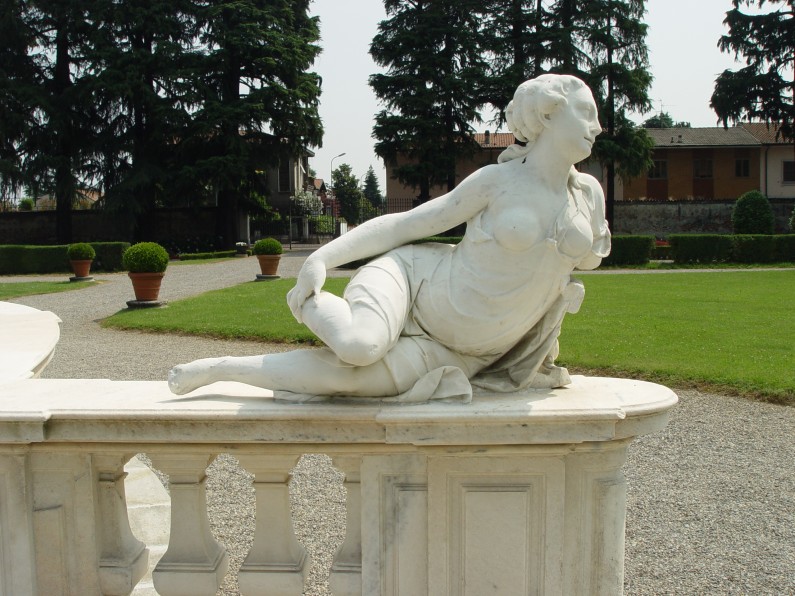 The fountain is located at the centre of the garden, at the point of intersection between the axis of the main building of the complex (south-north) and the axis of the street map (east-west), avenues that led to the vast possessions of the Borromeo Visconti Litta family, now in the territory of Nerviano.

More
Four stairs access the central fountain with steps delineated by Candoglia marble balustrades, decorated with eight supports that hold just as many stone vases. Each staircase is embellished on the sides by three pairs of statues of nymphs depicting Flora and Pomona, Hymen and Euterpe, Sleep and Silence (represented respectively by a woman lying down and a veiled woman), and two unknown agrarian gods.
Cherub couples holding the coats of arms of the Borromeo, Visconti, and Arese Litta families support the central basin of white Carrara marble. From the fountain basin emerge two newts and a mermaid wrapped in the coils of a sea serpent, which support the central shell. A lot of physical effort was needed for this as reflected in the expressions of their faces. On top of this support is the nymph, Galatea, alongside Cupid with wings that quiver, and another small newt holding a shell.
According to myth cited in the '"Iliad" by Homer and the "Metarmophosis" by Ovid, Galatea, daughter of Nereus and Doris, was one of the 50 sea nymphs. Sweet, lovely and beautiful (her name in Greek means "one who has milk-white skin"), she fell in love with a young Sicilian shepherd called Acis and was also loved in return. However, the cyclops, Polyphemus, also fell in love with her and tried in every way to win her heart, even playing a sinuous melody with the flute. The young Nereid resisted the courtship of the monster which unleashed his wrath. He hit Acis with a stone while trying to separate the two young lovers, and killed him. Desperate for the loss of the beloved, Galatea then transformed Acis' blood in the course of a river, so that the flow of water could remain as an imperishable memory of the young man whose life was cut short. The "Triumph of Galatea" became one of the iconographic subjects chosen by artists of the Renaissance, representing the nymph sitting on a shell or riding a marine animal, surrounded by cupids.
This monumental sculpture was built in stages between 1720 and 1786: it was started by Stefano Sanpietro (d. 1715), and after his death was completed by Carlo Beretta (d. 1764), and finally embellished by the neoclassical sculptor, Donato Carabelli (1760-1840) who added the rich external balustrade and the eight statues that adorn it.