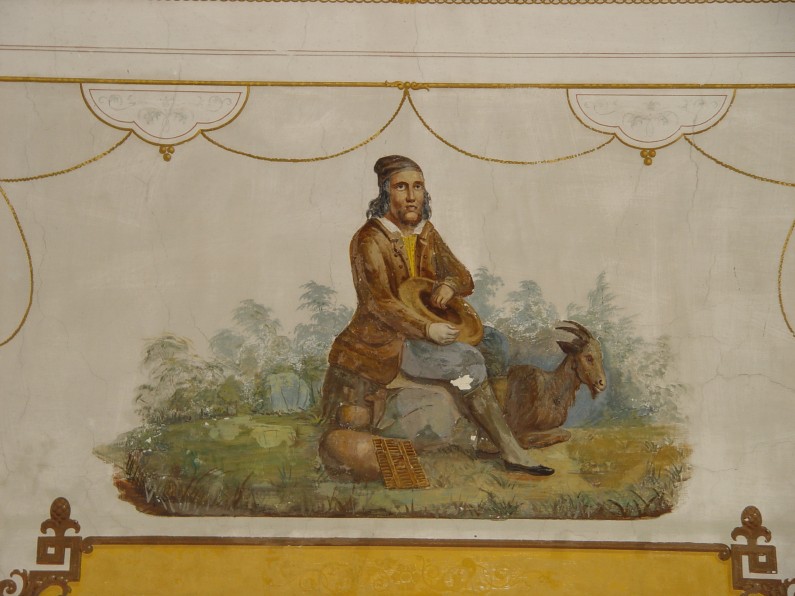 The "Twelve-hole Game Hall" was described in the inventory of 1753 commissioned by the daughter of Giulio Visconti Borromeo, which recorded the presence of paintings and a substantial number of 12 game tables.

More
The name of the hall in fact, refers to a game that resembles billiard, diffused in the noble villa of the 18th century, and described in the archive documents as a "game board covered by a green cloth sustained by legs in hazelnut wood with its holes, stick and balls to play with, and its cornice all around for the plates sustained by two iron clasps." In fact, it was a custom for noble families of the 17th century to have game tables or accessories for group games.
The hall is currently embellished with a fireplace in grey marble with fire guard in cast iron and a fresco decoration running along the ceiling with countryside motifs and a series of Spanish-like figures. The figures depict men and women dressed in 18th-century clothes of bright colours, with a clear reference to the farming world. The figures are inserted in small bucolic scenes, with fields, shrubs and small animals. All the personages, whether male or female, are portrayed in very similar stances, generally seated on a rock with objects beside them, such as musical instruments, vases, packs and foodstuffs.
The persons depicted here are separated from each other by refined ornamental motifs of plant branches in azure and blue, crowned by thin gold lines in spirals, and leave room for the painting of flowers at the four corners of the vault. Also very interesting is the floor decoration, characterised by a beautiful Venetian-style mosaic floral composition in the centre of the hall.