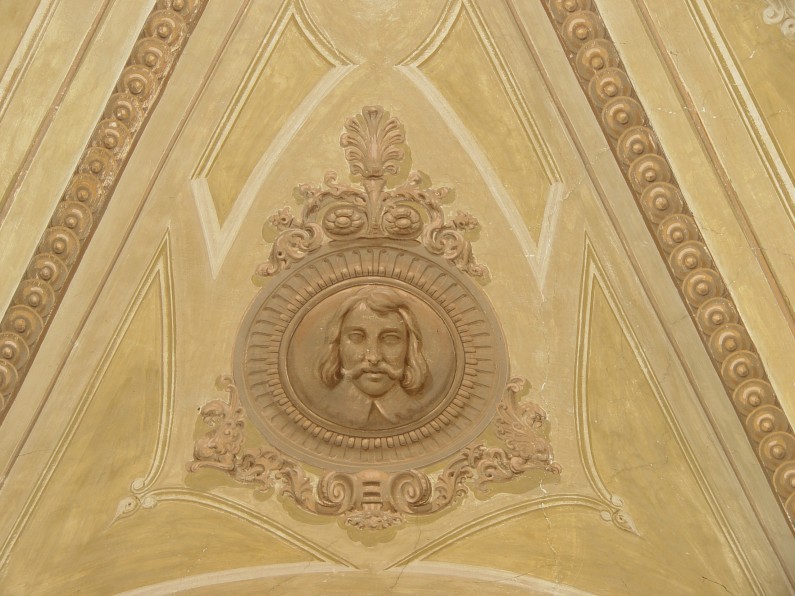 The "Hall of Panels" is the last important hall on the ground floor of the 18th-century wing, and opens out to the 16th-century venues.

More
It owes its name to the hall by the same name located on the ground floor of the Sforzesco Castle in Milan, with ceiling frescoes achieved by Leonardo da Vinci and commissioned by Duke Ludovico il Moro, and today part of the itinerary of visitors in the Ancient Art Museum. The fresco motif reproduced on the walls of Villa Litta in Lainate, resemble in fact, the original lining of wooden panels that gave the Milanese hall its name. Unlike this hall, the ceiling here is decorated with a fresco reproduced with an embroidered panel, at the centre of which hangs a 20th-century lamp in wrought iron.
Up to today we do not know the exact function of the hall at the time of the construction of the 18th-century wing, since all the rooms were renovated and modified from the mid-18th century onwards, without leaving any documental trace. The Villa in fact, assumed its definitive aspect between 1784 and 1796, and was at that time radically modifying the use of the actual rooms. Also the first known inventories of the 17th-century are not able to give the missing information. Even in the first inventory drafted for tax purposes in 1734, for example, the number of rooms is less than what really exists, since they only described the rooms that contained furniture to be acquired in the face of the tax debts incurred by the Visconti Borromeo family. In the succeeding inventory of 1753, recorded by the daughters married to the Litta after the death of Giulio Visconti Borromeo, on the ground floor there are some rooms, a series of rooms reserved for the women and a parlour or sitting room, the location of which cannot be precisely identified.