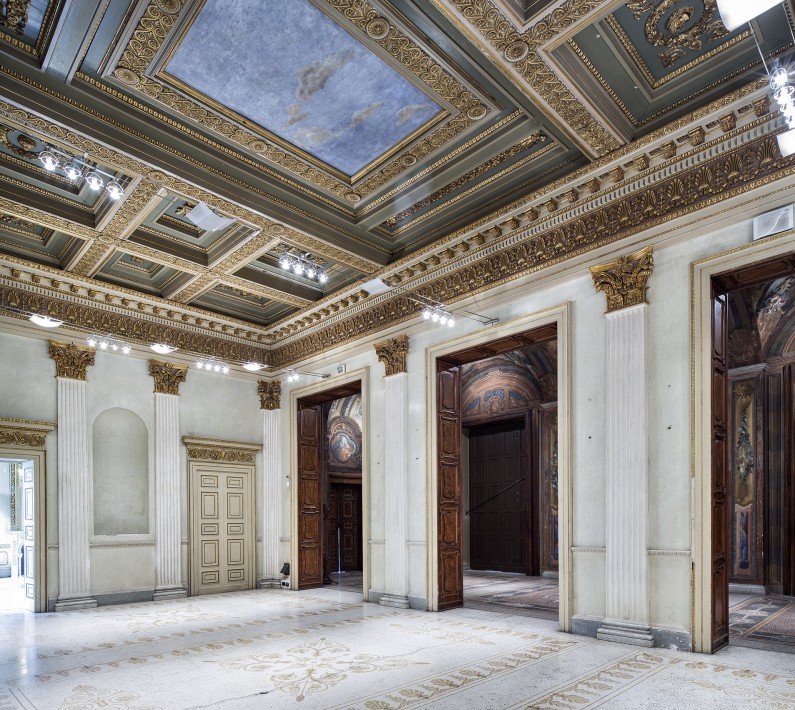 On the ground floor from the formal dining room, one enters into the so-called "Room of the gilded stucco," overlooking the garden.

More
This atrium was originally a small walled porch and was used for large dinners or as a dance hall. With walls accentuated by fluted pilasters with Corinthian capitals in gilded plaster, the hall contained classical motifs, inspired by neoclassical bands characterized by stylized palm trees in gilded stucco above the doors, two on each of the shorter side.
The coffered ceiling in gilded wood is decorated with rosettes, masks and musical instruments while in the central part opens onto a scenic trompe-l'oeil painting depicting a cloudless spring sky. This underlines the airiness and the role of the entrance hall, which was also an essential element of mediation between the inside and the outside and between the well-defined architectural volumes of the villa and the free vastness of the garden. The walls on the sides have many niches, one of which houses a marble bust of the owner Giovanni Traversi with a lawyer's toga. When it became the property of the Tittoni family, this room, along with many other rooms of the house, became one of the favourite areas of many distinguished guests, among them: the Austrian Foreign Minister, who visited the residence in July of 1907; an Abyssinian delegation, who lived in these areas in September of the same year; the Russian Foreign Minister, who stayed in the villa in September 1908; visits related to diplomatic activity of Tommaso Tittoni who was appointed senator of the council of Zanardelli in 1902 and from 1903 to 1911 served as Minister of Foreign Affairs.