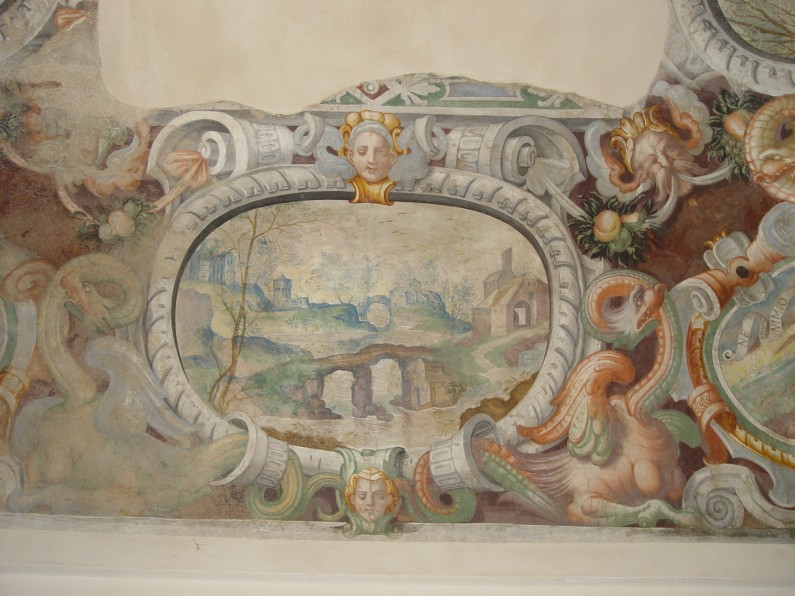 Recently restored, the "Hall of the fragments" now allows access to the rooms of the 18th-century wing of the villa used as the "Print Museum," and owes its name to the wall decoration which is extremely incomplete.

More
There are few remaining original fragments of the frescoed walls that are in agreement with the paintings made in the other rooms of the 16th-century wing and show the passion of the client, Pirro I Visconti Borromeo, for the rich and fascinating world of the grotesque.
The ceiling of the room, still partly intact, shows a complex decoration characterized by fantastic and monstrous animals with old-fashioned heads. These are wrapped, and surrounded by rich frames with scrolls, within which stand out depictions of rural landscapes and symbolic animals. A unique presence in one of the round corners of the frame is an elephant intent on drinking. The elephant, symbol of remembrance and princely magnificence, appears cryptic in its iconographic value, although we cannot exclude that here the elephant was painted with precise heraldic or allegorical implications which even today is hard to decipher; this is also due to the partial loss of the Latin inscription placed on the scroll painting above it. A similar scroll is placed in another corner where a painted landscape is dominated by a sluice of a river with the inscription in capital letters "Ne nimio noceat" ("not too harmful").
The same frame decorations, scrolls and floral racemes, should have covered also the walls, however, today there are only fragments depicting a gigantic African mask, and a coat of arms with a golden crown surmonting some capital letters. Among these only the "V" and "B" are clearly recognizable, probably referring to the Visconti and Borromeo families.