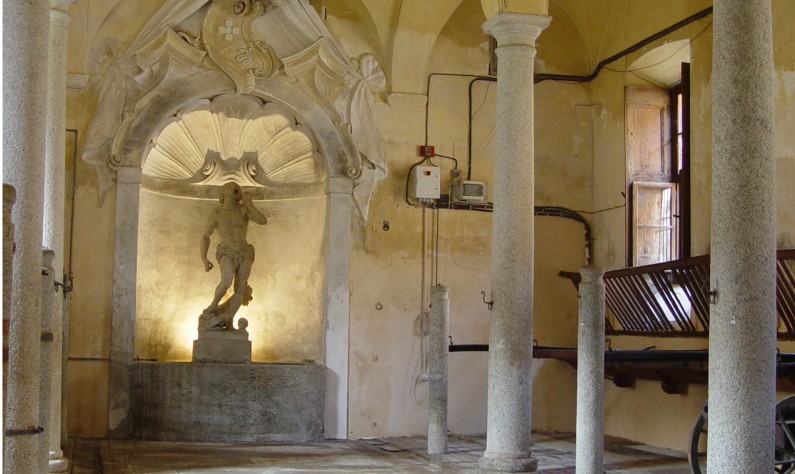 The stables of Villa Arconati are located inside the "Rustic Courtyard". Farm hands and farmers lived in this area as workers of the aristocratic family who owned the architectural complex. The stables were built by Luigi Maria Arconati, husband and cousin of Maria, the only daughter of Galeazzo Arconati.

More
Luigi Maria took care of developing the area, which included the village that surrounded the grand Villa, and in particular the actual "Rustic Courtyard". He therefore decided to give the noble residence large covered stables with an architectural structure that would appear very elegant in proportion and form. This structure had a roofing system based on groin vaults supported by smooth stone columns with ionic capitals. Some essential elements still survive today like the drinking trough and mangers that completely line the entire length of the stables . Next to the columns are some elements of a lower height, that at one time served to tie the horses' reins onto.
At the end of the stables is an iron gate defining the space intended for the rest of the horses, separating them from the end walls which hold an imposing niche where Luigi Maria Arconati wanted to put the fountain. The stables of the Villa, in fact, were equipped with a unique fountain where a male statue stands out, depicting a man covered by a leather loincloth. On his feet lie a skull and a sea animal similar to a dolphin. The fountain served as a water resource for the grooming of horses and the drinking trough. Even to this day, one can still see the part of the hydraulic system which ends with two distinct water spouts from which jets of water poured out and were accumulated in a rectangular basin below. Dramatic and imposing, the group of sculptures which portrays a man in the act of bringing a hand wearily to his face blends well with the niche decorated with shells. The two statues, moreover, are topped with drapes and a canopy under which, represented in bas relief, is a structured herald crest which can be recognized as the Viscount snake, with a child about to be consumed and the five shields that belonged to the heraldic emblem of the Arconati family.
Inside the stables one can admire today the numerous antique canons which were once part of the museum commissioned by Galeazzo Arconati.